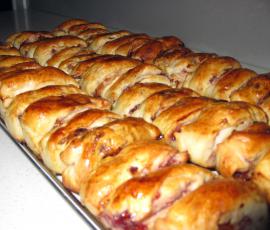 This is a variation on the TM Pullapart bread, I like to use buttermilk when I have it as it does add more "body" to the bread. I'm a little obsessed with quality silicone baking moulds… I have an addiction to Scullerymade in Melbourne and they have the most divine range of european baking silicone in all shapes that you can imagine possible. It's lucky I don't live closer as the credit card would take a real hit!!
Anyway I have 4 bar trays.. they make 12 bars per tray so I managed to get 48 cute little baby loaves from this recipe. They are great for kids lunchboxes and I do sweet and savoury combos as recommended below.
Clearly you can just bake this off like a normal pullapart but these are way too cute… I've also made TM Rocky Road, Choc/Peanut slab bars and zucchini slices in these moulds as well as home made museli bars and a variation on the TM popcorn brunch bars.
Dough:
200g Buttermilk
250g Water
2 sachets of yeast
750g Bakers Flour
pinch of salt
drizzle of olive oil
Filling:
200g (at least of raspberry jam (preferably TM made!)
350g whole apricots
METHOD:
Add buttermilk,water and sachets of yeast to TM Bowl and heat for 2min at 37 deg on speed 1.
Weigh in bakers flour, then add olive oil and salt. Replace lid and move dial into closed lid position and knead for 5 minutes on the interval setting.
Remove from bowl and set aside to prove in thermomat until doubled in size. (approx 20minutes)
Whilst dough is proving add apricots to TM bowl and chop on speed 5 for 10 seconds or until they resemble finely diced apricots.
Once dough has doubled in size flatten out on TM Mat until it is the size of an A3 sheet. Spread Raspberry Jam over the whole sheet surface of the dough and then sprinkle the apricots in clumps so that it will be evenly distributed once rolled.
Once covered, use the long length of the dough to roll up to form a scroll. I do like to leave this for another 20 minutes or so for an additional prove of baking in the scrolled format.
Bake in oven for around 30minutes at 200 deg, keep an eye on it, once golden you will want to remove to cool slightly before serving.
Of course, Like all good bread serve with lashings of butter!!!
Variation
Popular combos are clearly: Herb and Garlic, Spinach and Fetta, Cheese and Chive, Cheese and Bacon, TM Nutella and Hundreds and Thousands, Semi dried tomatoes and olive, Roast Capsicum and Persian Fetta .. the list goes on!!!
Tips
Be generous with the filling.. This is a huge dough mix and you want the flavours to come through.
Once rolled into a scroll you can cut on the thermat with your spatula to form "scrolls" and lay in a baking tray.
I actually made 2 scrolls and cut up small to put into silicone baking moulds (as picture shows) to get a total of 48 pieces.
Another good option is to cut into chunks and then just place randomly in a loaf tin to achieve a sandshich loaf that would be great for slicing and making toast out of.